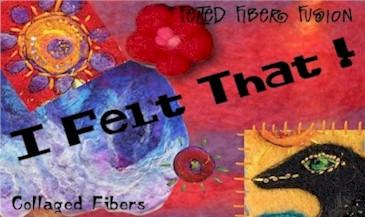 Art Works and Merits
My body of work spans over 35 years, with early art being commission work for murals, trompe l'oeil and portrait paintings. After many years, I began painting for myself. From there I moved into a the public forum of art shows, exhibits and art fairs.

I was given an early retirement package and decided to take a sabbatical and use that year to decide what my next phase of life would be after which I decided to move from the Engineering Design field (bread and butter job) and do everything and anything in the field of Visual and practical arts. I wanted to just create art.
I had a strong focus on three stations; painting, jewellry and textiles (using raw and finished natural fibers, rovings, silks etc.)
I began intermixing, making felted cuffs with gemstones, 2D textiles with paint or just paint, inks then dyes, then silk and on...
Juried Shows
Won awards for 2D felted work at a local gallery with studio group "Scrum Sisters", that myself and co-founder Karen Watson brought together in 2010. Exhibiting as a Studio group would gave us more visibility and a wider audience. The membership consisted of Karen Watson, myself, Lou Anne Sybenga, (textile artist) and Nancy Walsh, (painter).
1st place award at Lawrence House Center for the Arts in Jan/2015 for a felted textile work. (One of the judges also purchased the work)
Scrum Sisters Studio hosted a solo exhibit at a local gallery in October 2015. Pictures can be seen on our Facebook page . This successful exhibit has brought me invitations to showcase my work in other venues and juried shows.
January 2016 at Gallery in the Grove. 2D felted piece received a 2nd place and my 3D vessel received an honorable mention.
Currently I have only entered local juried shows. I hope to expand my territory once I have a more suitable situation to do so.

Inspiration
My inspiration comes from everywhere, nature, thoughts, colors, the cosmos and of course other artists....

Narrative
The story is that apparently, I was born with a pencil in my hand and that as soon as I had control over it, I began communicating with it. Stick people first. :-)

I have drawn, sketched, painted, sewn, embroidered, baked, wired on many surfaces.
I am obsessed with the arts and all expressions of creativity and life that can come from various manipulations. I was however, a cop out and sold out to a shadow career. I chose Engineering design and drafting because the pay structure was more conducive.
Through out my entire Engineering career struggle, I pined away for what I really wanted. Dreaming of days where I can paint, sculpt, sew, create anything full time instead of in the spare time that I had been stealing here and there.
After 30+ years of struggle (female in a male dominated world was very discriminatory) I was "early-retired" and faced with "now what am I going to do" and I'm 50 now anxiety. I couldn't afford to fully retire of course. However, I did decide to take one year off as a sabbitical and live off of my severence package.
A for a full year I did just that, I painted, felted with wool fiber, silks, alpaca, made paper, fulled and re-used vintage wools, played with gemstones, threads...
The time where the money was running out and I was faced to think about a steady source of income. Some life changing decisions were made and my long time partner and I discussed me selling my home, getting rid of debt and move in with him. I would be able to work only part-time and focus the remaining time creating and further developing my skills. So a position was found working part-time as a custom framer at a local Arts store, along with a terrific discount on supplies and here we are!
Ultimately, I am working on owning my own studio with space to rent to other artists for their workshops, as well as cater to Artists in the community with affordable supplies and framing for their art!