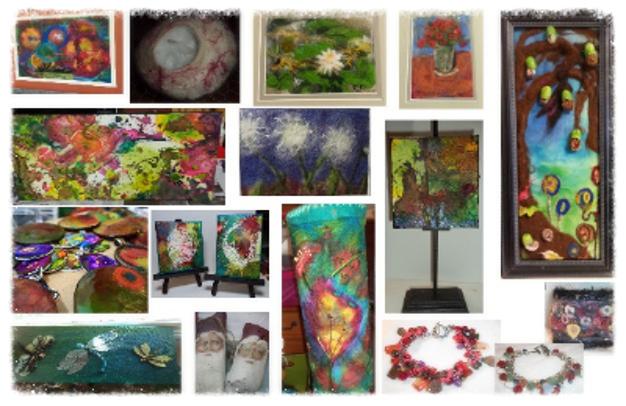 Narrative
Patti grew up surrounded by domestic crafts – knitting, dressmaking and a myriad of needle crafts. Her initial encounters with stitching were making her own barbie and ken doll clothing by hand. It wasn't until her mum taught her how to use the sewing machine at nine years old that her love affair with fabric and threads really began. Spending hours transfixed on the meditative motion of the needle going in and out of the fabric eventually producing her own clothing and adding embellishments to make them uniquely her own was a heaven on earth.
Mark making in any form has always been a large part of Patti's life. Her Dad often told a listening ear that Patti was born with a pencil in her hand. She was always doodling, drawing, coloring, painting or reading about it.
Much to her parents surprise, Patti didn't choose the academic approach and enroll in a fine art career.
Instead, after years of watching her Dad on his drafting board rendering home designs as part of his sales conversion strategy, she too, wanted to design homes. She studied in architectural and mechanical design all through high school in Sarnia and later on received her Technologist certification in Southern Alberta.
Patti still continued to paint, draw and sew on her own time. She took evening art and watercolor classes at the University of Lethbridge as well as complete a two year Art course online while she attended college for her technical career. She attended full workshops and day classes from notable watercolor artists such as Zoltan Szabo and Jean Dobie, both of whom were huge influences in helping her to loosen up in her paintings. A workshop with Kristy Krutch in colored pencil was a huge assist for Patti when making color selections. Her studies didn't stop with the fine arts side, she has also taken workshops in jewellry design!
Her love of textiles had not been left out. In 2016, Patti completed a master class with Felt master Fiona Duthie (from Vancouver) and hopes to continue to study with other notable felt masters in the near future.
She has procured commissions in past years painting murals in homes (trompe l'oeil), others were for business and others still for charity. There was mask making and sewing costumes for a small local theatre in Lethbridge. Art projects for schools, storefront paintings and watercolor portrait painting...these are just a few of her artistic endeavors over the years.
Patti's love of fiber, threads and natural fabrics have made working with textiles as an art form a natural progression for her. Evolving from traditional quilts for domestic use, to art quilts and from art quilts to threads and fiber. Around 2000, Patti participated in a "felting" workshop up Kingston Ontario way, while vacationing in the area. That is when she became absolutely fascinated with wet felting with wool fiber and what one could do with it. She had only known needle felting before.
However, it wasn't until her departure from the Engineering design field that Patti fully delved into the wonderful world of textile art. Patti has created many 2D paintings using wool fibers and silks as well as countless fiber vessels incorporating silk threads, crewel wool and many other natural fibers, with just a few non-naturals added for color or texture.
Patti maintains that her love of all things art will keep her in the mixed media arena (LOVES to paint), however, it is at this point in time she is completely enamored with working with textiles as an art form and seeing where it can take her.
Despite that many in the field of textile art say that working with textiles as a art form is difficult because it remains marginalized in mainstream art, all of Patti's textile entries into juried art shows around the Lambton County Gallery scene have won awards, with the most recent being a 3rd place win at The Lawrence House Centre for the Arts annual juried Mayors Award in January of 2017.
Patti participates and volunteers in many local and business events either donating art, teaching art or organizing art classes with a specified program. Her most recent adventure was along with two other local artists participating in the Gallery in the Grove's VALS (Visiting Artists in Lambton Schools) program which is focused on Grade 6 level arts during the winter months. Spring saw her teaching the Fundamentals of Drawing Basics program (4 classes in all), Painted Collage Workshop, Felted Art Cards and more.
Visit my "tab" on my Scrum Sisters Studio Group's web page ,our Facebook page and my instagram user name is @pateogram!
PLEASE NOTE
No picture can be used commercially or for personal gain. All photos are copywrite TO Patti Cook and Scrum Sisters Studio.